Radia Lahlou
Product Designer
The climate crisis is here, now.
Earth Love United (ELU) is an international non-profit organization that focuses on bringing climate awareness to the public. Through social media campaigns, podcasts, newsletters, and the founder's book "The Green Energy Boom," ELU actively seeks ways to inspire the global community to take action against climate change.
The problem:
Older generations hold climate organizing experience, yet research shows that younger generations are innovators at the forefront of climate action. Currently, there is no effective, democratized way to bridge the gap between these groups of people and spread awareness about the climate crises.

Additionally, a 2021 study by the University of Bath, that surveyed 10,000 people ages 16-25 in 10 countries, found that 77% considered the future to be frightening, in large part due to climate change.

How might we help the young people gain the confidence to collaboratively combat the climate crises, while connecting them to those with organizing experience?

The problem:
The solution:
Our team created a Minimum Viable Product for a mobile social media app targeted to younger generations, allowing them to build new connections, learn from one another, and organize in environment interest-based groups.
Timeline:
October 2021 - January 2022
Role:
Project Coordinator, UX/UI Designer (Team of 5)

My responsibilities included: conducting user research, guiding the group through synthesis exercises, reviewing low and high fidelity screens. As a personal challenge, I also created a preliminary design system. As project coordinator, I was also responsible for organizing group meetings, communicating with the client, and articulating design decisions.
Tools:
Figma, FigJam, Otter.ai, Zoom, Loom, Pen + Paper :)
01. Research: Understanding the Problem
Secondary Research
To better understand the scope of our problem, our team conducted secondary research, focusing on the relationship between younger generations and the climate crises.

Three key insights stood out:
Generation Z is more active than previous generations in addressing climate change

Regardless of political affiliation, climate change is identified as one of the most important issues to address

Feeling directly impacted by climate change can motivate climate action (e.g. living near California wildfires)
Competitive Analysis
As project coordinator, I flagged a key competitors for my teammates to dig into further. Of the ~8 applications I identified, one of my team members narrowed down the three most relevant, and the ways in which our solution would be a differentiator.
We Don't Have Time - An indirect competitor to Earth Love United, as it is meant for a broad and mostly adult audience.

Earth Hero - Focused on helping users discover actionable steps to reduct carbon footprint - not a social solution.

Klima - similar to Earth Hero, the key goal of Klima is to help users neutralize their carbon footprint.

Primary Research
After conducting secondary research, we collaborated on a research plan and set of interview questions on a shared Google Doc. We split up the interview process : I conducted two interviews, and my other teammates conducted the remaining three. We focused on users ages 18-22, and used affinity mapping to bring to light key insights.

Importantly, we uncovered that misinformation is a key concern when it comes to taking action, and that many of our interviewees feel helpless when considering climate change.
Personas
Based on the insights we outlined above, we then discussed reoccurring themes and user types. We came to alignment on three distinct users:

1. The Casual Activist: A user who cares about climate change, but doesn't actively seek out climate change efforts.
2. The Informed Activist: A user who care deeply about the climate and dedicates much of their free time and energy to climate action.
3. The Skeptical Teen: A user who feels particularly hopeless and skeptical that anything they do will help the climate.

Using Figjam, I facilitated a group meeting in which we identified the things our personas say, do, think and feel.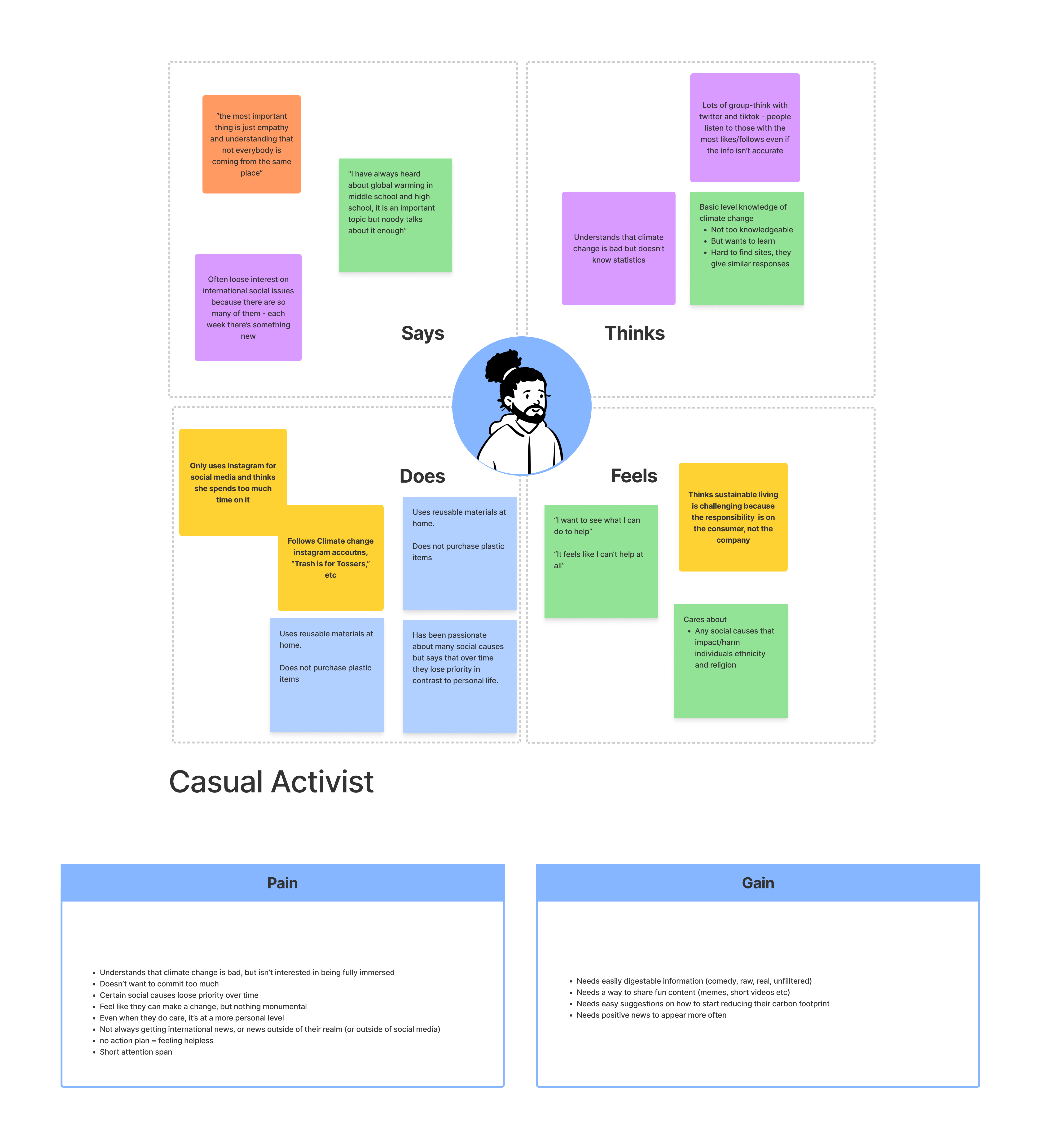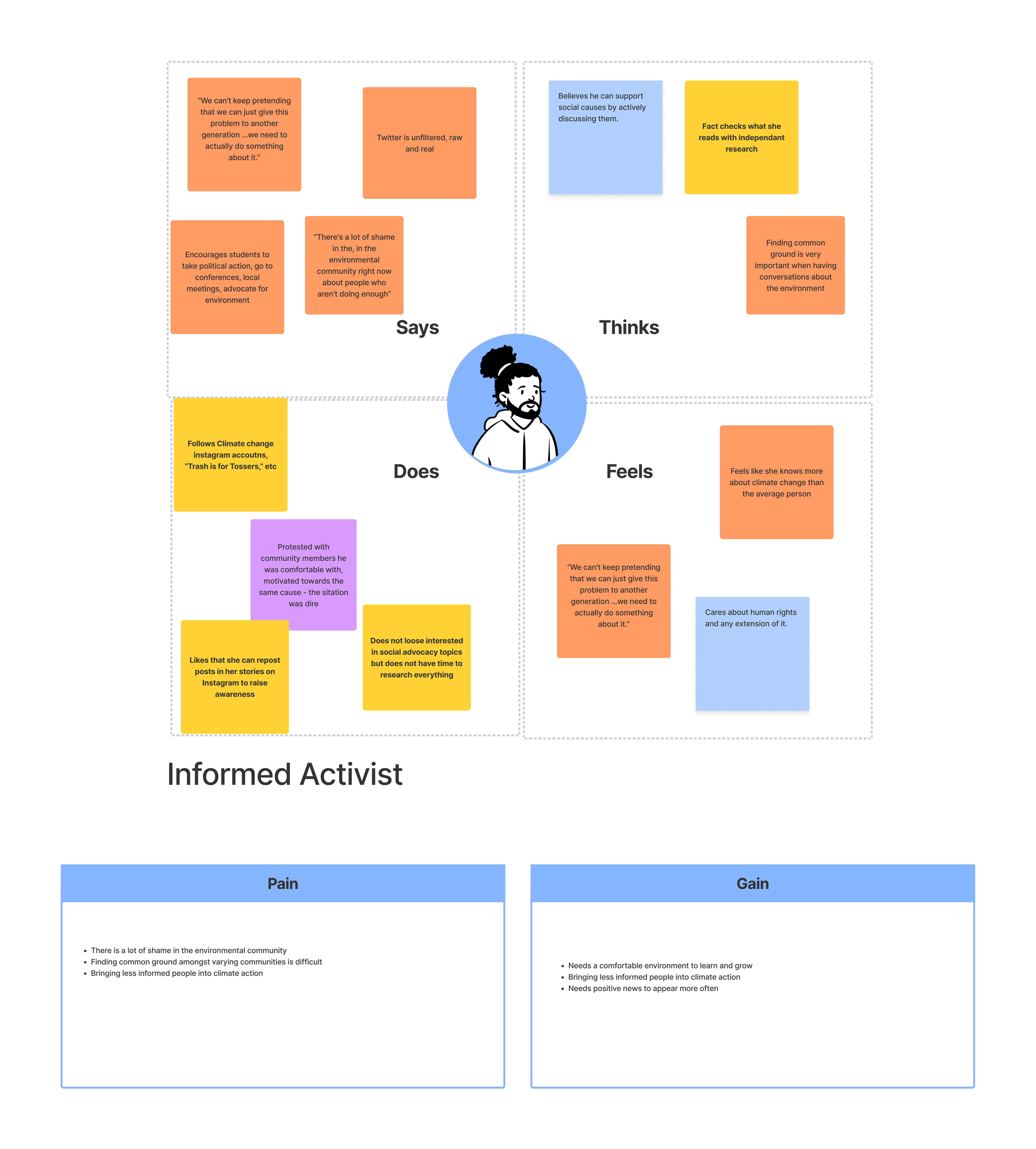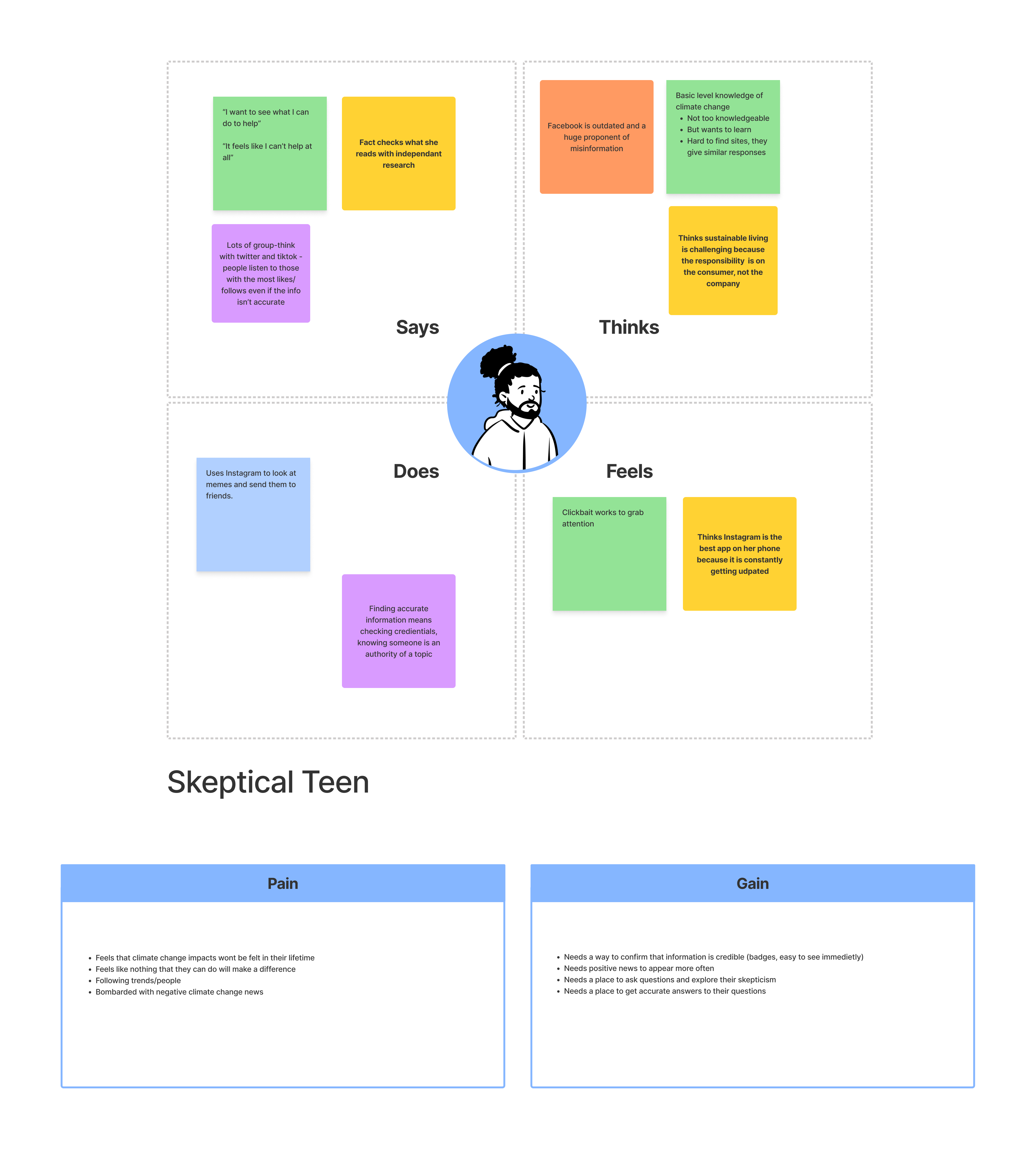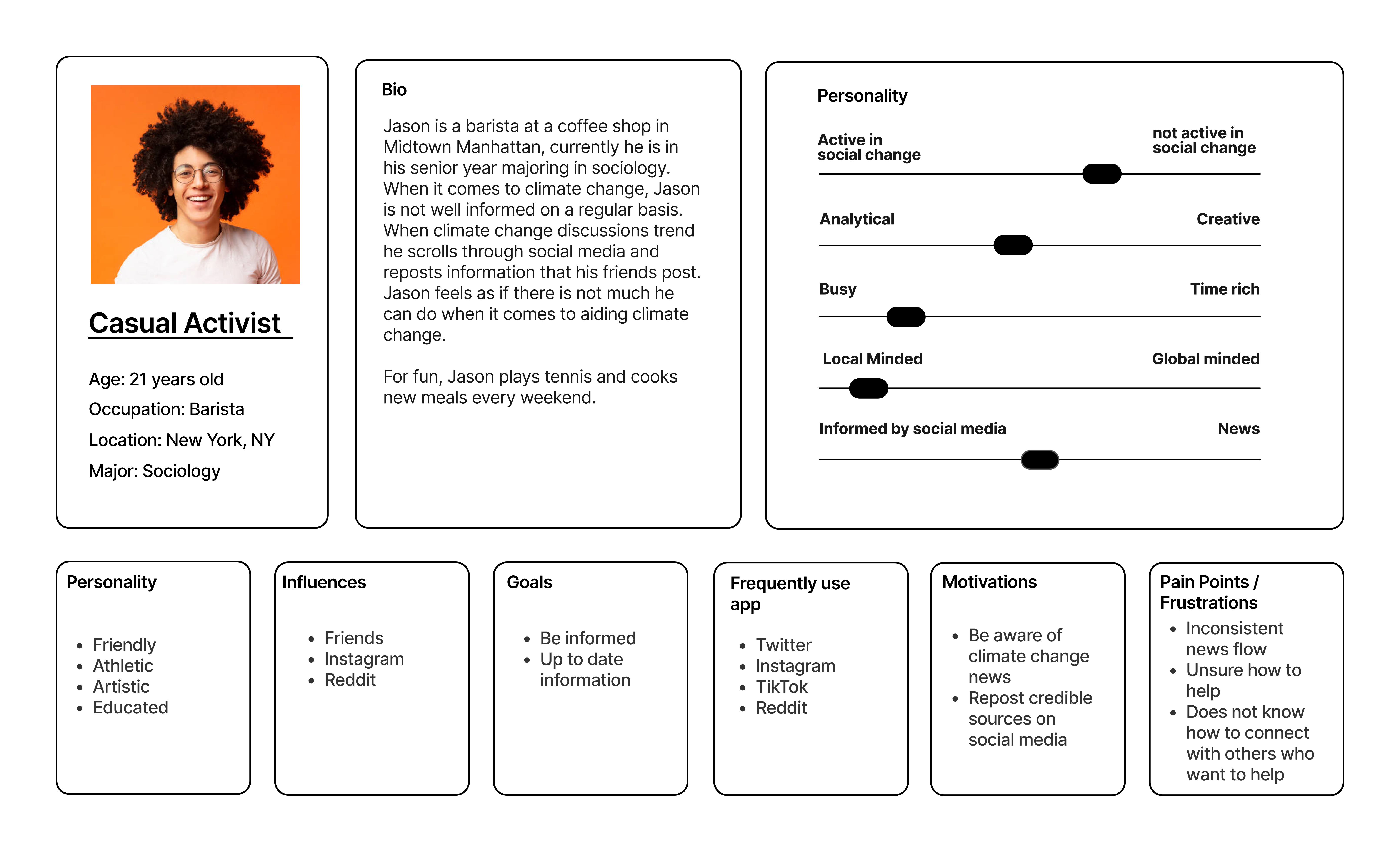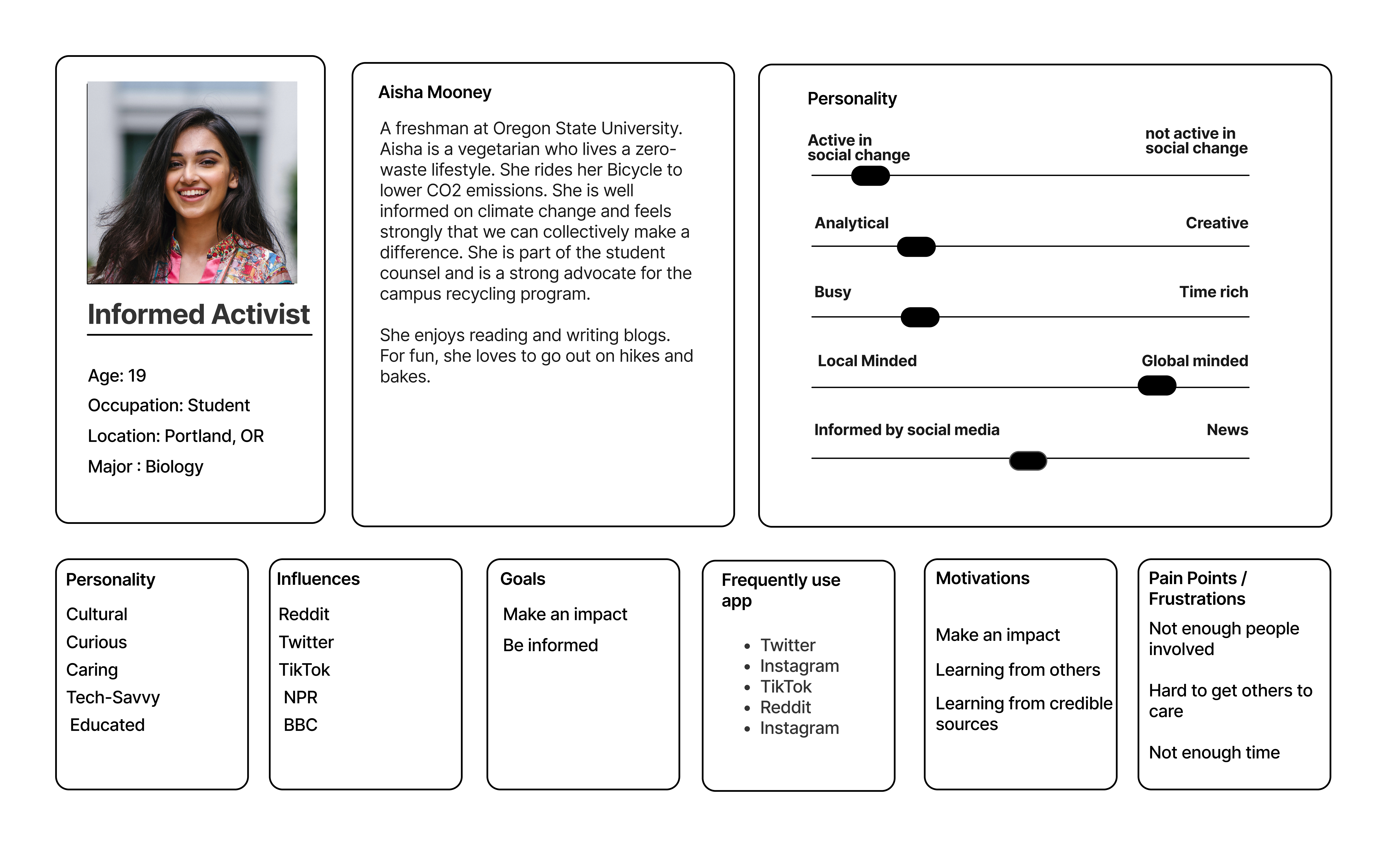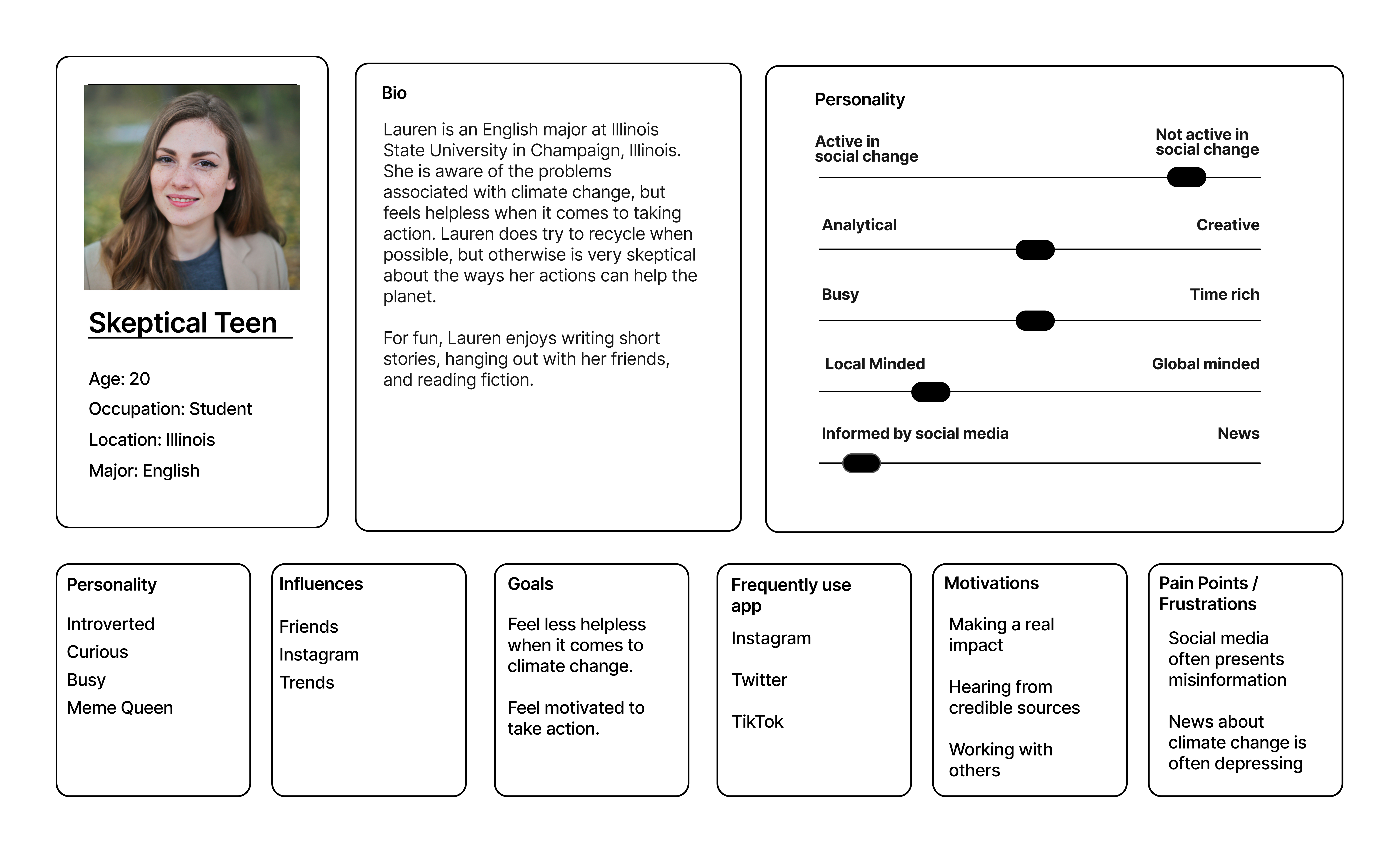 02. Ideate: Brainstorm Solutions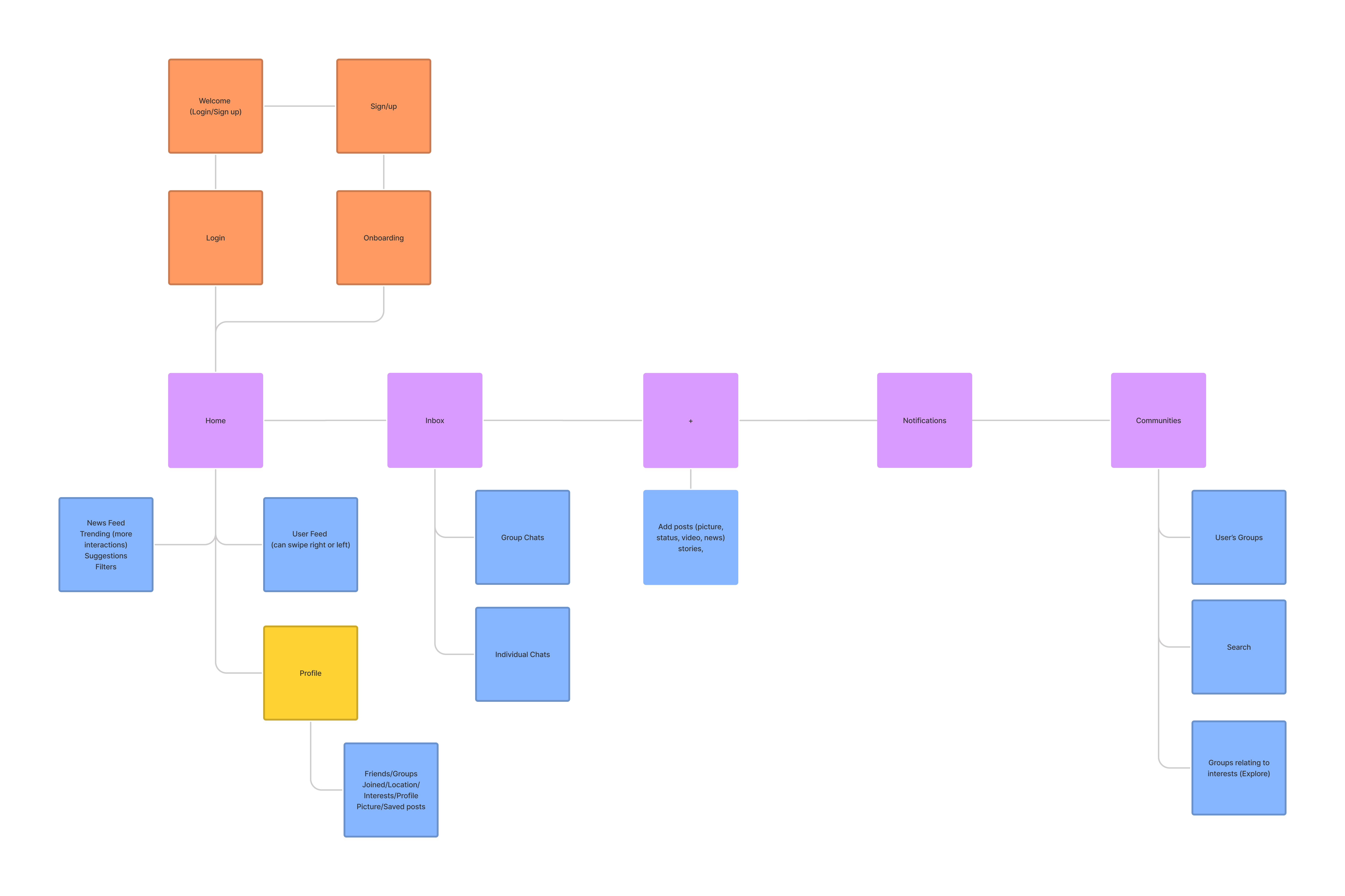 Information Architecture
Our stakeholders provided us with a few requirements for our final deliverable which drove the direction of our ideation process. They required that the solution be a native mobile application with social functionalities - they wanted both a social feed, and a dating-app-like connection method.

In order to ensure we were on the right track, we made sure to communicate early and often - I was the key point person between our team and the stakeholder, maintaining email communications as well as setting up Zoom calls. In our first ideation call, we presented a site map and user flows to clarify the information architecture of our product.
Sketching
Using common social media design patterns and keeping best practices in mind, we began sketching preliminary screens based off of our site map. Throughout, we kept our users needs in mind.

Here are some key choices we made, and the reasoning behind them:

1. We chose to include a news feed where users could share articles and information about climate action. This is because our interviewees expressed feeling alone and uninformed when it came to climate change. By providing a platform upon which users can connect, we facilitate a sense of hope between users.

2. We chose to allow friendships to be built through swiping, similar to dating apps. This is a mode of democratizing connections, and making it so that users can meet new friends with similar interests to their own. This also provides a way for climate change mentors to connect with mentees, breaking down potential social status or location barriers.

Low-Fidelity Wireframes
Next came the time to commence low fidelity wireframes. After reviewing and approving the teams sketches, and getting the green flag from stakeholders, we began to design in Figma. We chose to start with low fidelity designs so we could better conceptualize of our broad vision and rapidly iterate before defining styles.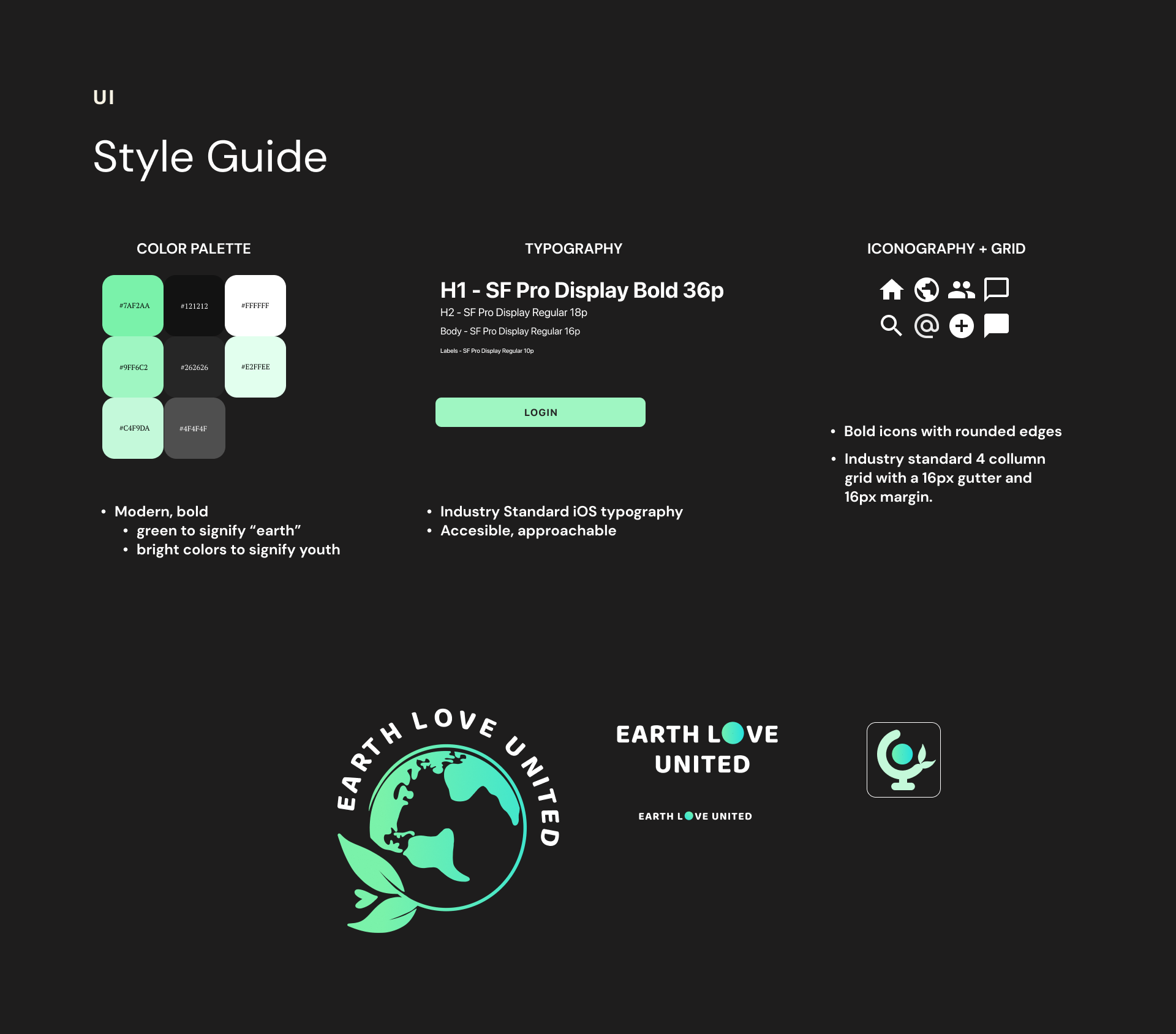 Style Guide
Next, two of our team members collaborated on a basic style guide. Because I've been interested in establishing a design system for a while (just out of curiosity and professional development!) , after we established the first iteration of high fidelity screens, I also worked to adapt this style guide into a more robust design system.

Fun Fact: I am also responsible for creating the new ELU logo, which they have used not only on this app, but in marketing and communications materials!
Final Deliverables
After many team meetings, meetings with our stakeholder, and design iterations, we delivered V1 of the ELU mobile application. Due to project timelines and shifting team members, this was the final stage of the project with this team. However, a new team did pick up the project where we left off, and conducted robust usability tests and refined out product even further. I facilitated this project handoff, by providing extensive design specifications and was still available as a resource to review and approve design changes via video calls.

Design System
Because the ELU app is a work in progress that will be contributed to by various design teams, I took the initiative to create a design system file to better make use of Figma's design system functionalities. Although we had previously set up text and color styles based on the style guide outlined above, once we created the MVP it was clear that future teams could benefit from a systematic set of reusable design tokens.

In the video below, I walk through the ELU design system and the reasoning behind including various components.
What did I learn from this project?
Working with the design team and ELU was a great experience full of rich collaboration and exciting ideas. My key takeaways from the project are as follows:

- Communicating early and often is key to a successful product. I learned that I enjoy leading those conversations and making the space for everyone to contribute.
- Systematic design creates cleaner, more consistent results - it was a lot of fun to take a stab at building a preliminary design system!
- Working across cultures and timezones can be challenging, but ultimately rewarding - working with those who hold different perspectives than your own makes room for real innovation.